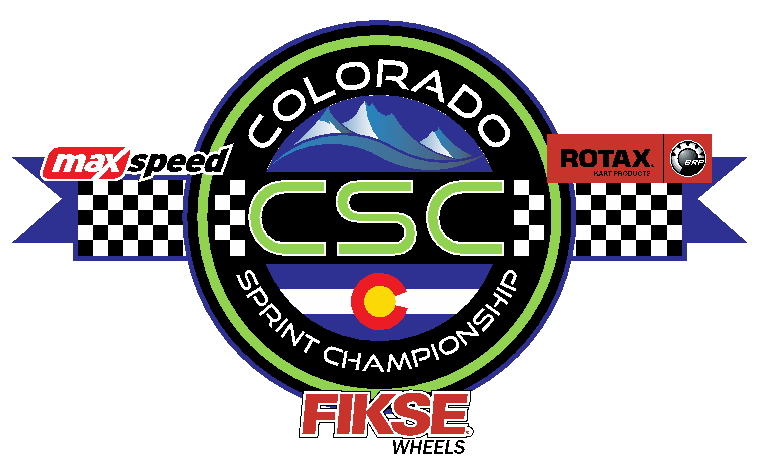 Denver, CO, February 21, 2017
The Colorado Sprint Championship (CSC) is pleased to announce the 2017 Schedule. We will be at two tracks this year; Grand Junction Motorsports (GJMS) and Podium Karting and Events.
We are super excited to be able to offer US Open Las Vegas tickets to CSC class winners (entry fee, one set of tires, one fuel can and one oil) again this year. The classes included are as follows: Mini Max, Micro Max, Junior, Senior, Master Rotax, DD2 Senior and Master. DD2 Senior and Master classes and Senior and Master spec Honda shifters will each be splitting a ticket by drawing. We will be following the MaxSpeed Rotax and Shifter guidelines for weights, tires, engine and fuel specs.
We are also offering monetary awards to the top three in both adult Briggs LO206 classes (16 and up) for each of the four races. Payouts are $150 for 1st place, $100 for 2nd place, and $50 for 3rd place in each class (Light 345 lbs and Heavy 385 lbs). These payouts will be based on the total points for the two heat races and final with a five-point bonus for fastest lap in Qualifying in each class. We will be following the Briggs engine rules and pump fuel guides and Duro tires. We will be using the MaxSpeed points system for all classes with five bonus points for pole position in Qualifying.
There will be a race day fee of $ 100.00 /driver that will include one pit spot per entry.
Extra pit spots in Grand Junction will be $ 20.00.
A tire, fuel, and oil package will be required for each race day. These prices will be posted on the online registration to be opened mid-March. All Rotax racers will need to join MaxSpeed Rotax and supply those numbers at registration.
All CSC racers must sign in and pay an annual $35.00 membership fee which includes a T-shirt. Sizes will be requested at the first race and T-shirts will be handed out at the second race. Extra T-shirts are available for $15.00.
We will run the combination Honda and Comer kid kart class. The cost for this class will be a
$35.00 race day fee with the suggested tires being Vega Green and Evinco.
We will be offering two "arrive and drive" classes with the one-time CSC fee of $35.00. One option will be with the standard rental karts at either track. The fee for this class will be $125. The second class, available at both tracks, will be racing 33 horsepower dual speed DD2 karts. The $1,200.00 fee will include the entry fee, tires, oil, fuel and tuner advice. They will run with the regular DD2s under close supervision at practices, qualifying and races.
There are four scheduled races with no drops for this series. The minimum number of racers/class is five. The dates of the races are as follow:
April 29, 2017 Saturday night under the lights: GJMS
June 10, 2017 Saturday night under the lights: Podium
August 20,2017 Sunday day race: GJMS
September 16, 2017 Saturday day race: Podium
We look forward to an exciting and fun-filled season.